Corporate social responsibility (CSR) at Fluvius: how we do it
Corporate social responsibility (CSR) at Fluvius: how we do it
Our sustainable promise
We strive for customer satisfaction
We aim for the highest-possible level of customer satisfaction. We do this by continuously fine-tuning our working processes and by offering our employees all the support they need.
We operate in an ethical manner
Our Ethical Charter defines the conduct that we expect from our employees and external partners. Obviously, we do not tolerate corruption or bribery of any kind on the part of our managers or employees. We will apply the necessary preventive and corrective measures.
We have set up an independent procedure governing the reporting, investigation, processing and, where appropriate, penalisation of any breaches of our ethics. The regulations are easy to access and are communicated internally and externally. Anyone who reports a breach can rely on the full protection of their integrity in all areas and at all times.
We protect the privacy of all stakeholders
Protecting the privacy of all stakeholders – customers, suppliers, employees, external partners – is a top priority. This also applies to the data we collect and process as part of carrying out our activities.
We apply the principles of good governance
We adhere to a sustainable finance policy
It is vital for our sustainability objectives to be supported by our general finance policy. We give full and timely disclosure of our financial details.
We do not tolerate discrimination
Fluvius respects human rights, no matter where and no matter when, both in and outside our sphere of operation. In the workplace, we install the right person in the right place – irrespective of gender, origin, skin colour, philosophical beliefs, sexual orientation, physical or other disability ...
In fact, we strive to ensure that our organisation reflects the diversity of our society. Every employee is given equal opportunities to develop themselves and advance in their role.
We manage health and safety
It is vital for our employees and subcontractors to be able to work in safe and healthy conditions. We have a zero-accident vision. Local residents and other external parties can also rely on strict safety precautions and procedures.
Besides safeguarding physical health, we do our utmost to assure the mental health of our employees.
We leave nothing to chance in the areas of safety and continuity. For that reason, we have a crisis recovery plan and a crisis management system in place.
We are committed to fair labour relations
Credible, respectful and fair labour relations contribute significantly to a pleasant working environment in which employees feel at home. For that reason, social dialogue is given every opportunity at Fluvius, both formally (Works Council, Committees for Prevention and Protection at Work , Consultation Committees, local union delegations and management representation) and informally.
We care for our environment
Fluvius supports the transition to a low-carbon, decentralised energy system in Flanders. But as a business, we are also doing all we can to reduce our ecological footprint and CO2 emissions. To this end, we have put measures in the areas of building management , mobility and the rational use of energy and resources into place. Wherever possible, we also support local biodiversity protection initiatives.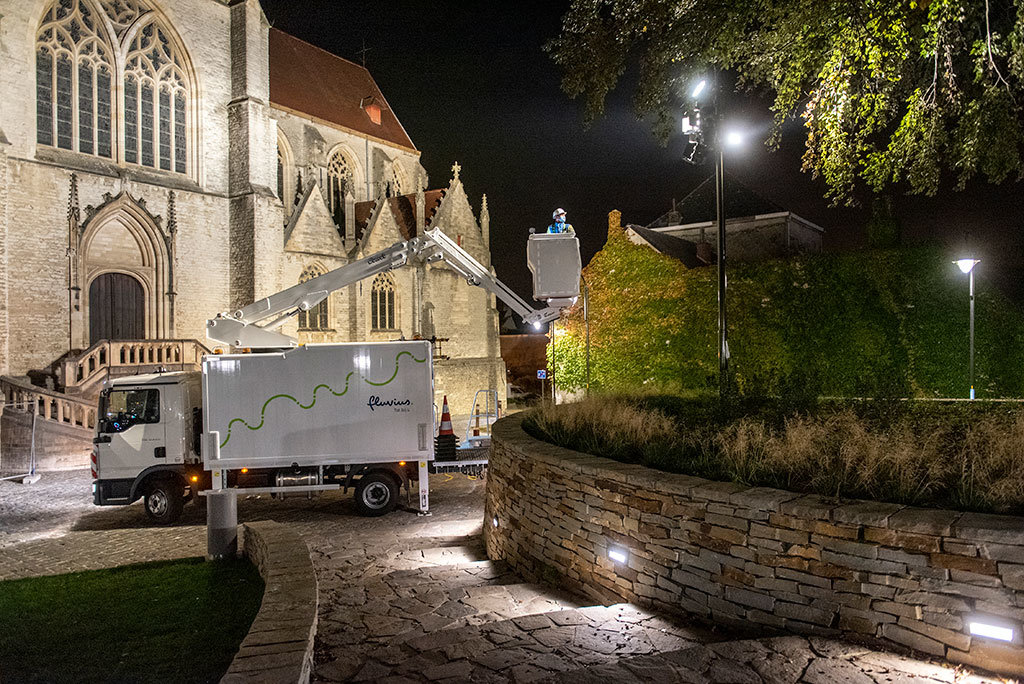 We beperken de afvalstromen van onze activiteiten tot het minimum en zetten waar mogelijk in op hergebruik en recyclage van materialen. Zo gaan we verspilling tegen.
We exercise social responsibility in procurement
In our procurement policy for goods, works, services and ICT, we consistently consider issues such as sustainability and social justice. Potential suppliers are screened on the basis of these criteria. Regulations permitting, we also include these elements in our procurement selection and award criteria.
We set up partnerships for CSR
To improve the sustainability of our processes, we are open to partnerships with external parties, including players in the social economy.
We support good causes
We show our social involvement through our systematic support of a number of good causes. Our employees are fully engaged with these causes.
How we shape our sustainability policy
Shared responsibility
The responsibility for our sustainability policy ultimately lies with the board of directors. The board delegates the everyday responsibility for sustainability actions and their rollout to the executive committee. The various management teams are responsible for actions in their own areas.
Our CSR board oversees relevant actions, advises the management committee and reports to the board of directors. All levels of the organisation are represented in this body.
Priorities on a real-needs basis
To set our policy priorities, we stay current with everyone who is involved in our activities. We keep a close eye on the latest and most urgent CSR and sustainability themes. We prioritise quantifiable objectives and specific ambitions, against which we measure our results.
Transparent communication
In addition to financial and operational results, our annual report covers our progress in the area of sustainable development. We also provide ad hoc reports on specific actions for all stakeholders.